Awesome Tanzania Safari and Beach Honeymoon (Tarangire, Serengeti, Ngorongoro, Zanzibar)
12-day Awesome Tanzania Safari and Beach Honeymoon
Tanzania safari is one of the top safari destinations and a perfect idea of spending your honeymoon. It is one of the most romantic destinations where married couples can visit during their honeymoon safari. The country offers natural attractions, stunningly beautiful landscapes, the big five, and a variety of other wildlife found in Tanzania throughout the year, without forgetting the beach part. We will do everything we can to make your honeymoon very special on this 12-day package.
Day 1 Arrival in Arusha
You will be picked up from the airport by a Done Adventures representative and driven to your accommodation in Arusha where you will overnight, relax, and prepare in anticipation of the adventures to come. Mount Meru Hotel is an oasis of calm and aesthetic pleasure.
Accommodation – Midrange: Mount Meru Hotel
Day 2 Tarangire National Park
In the morning you will be collected from your lodgings in Arusha by our personal safari guide. We set out for Tarangire National Park on a good tarmac road across gently rolling Maasai plains with scattered acacia trees. As we zip along we pass many Maasai in their colorful dress walking on the roadside, riding bicycles, herding cattle, and driving donkey's carts. Tarangire National Park, well known for its large elephant herds, is also host to a multitude of other creatures.
Accommodation – Midrange: Lake Burunge Tented Camp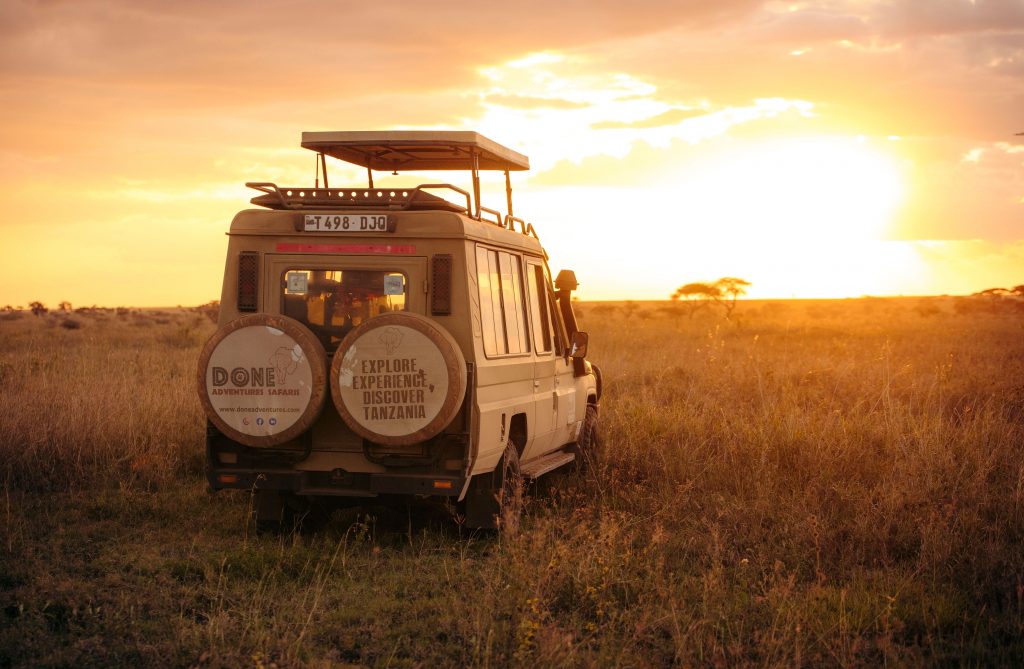 Day 3 Lake Manyara National Park
After breakfast, we will continue with your epic safari – Lake Manyara National Park. This relatively small but diverse park, 120km west of Arusha, is so named for the shallow salt lake which covers a good seventy percent of the park's surface area. Flooding and drying with the seasons the soda lake is home to thousands of flamingo as well as over 500 other bird species. On our exploration of the park we will see monkey, giraffe, zebra, wildebeest, buffalo, elephant, and, with some luck, lions lounging in the trees. The park is known for its diverse landscapes; not only open grassy plains but also primate-filled woodlands and baobab dotted cliffs. After another memorable game drive, we head to our accommodation, with our adventure replete with images of the African wilds to last a lifetime.
Accommodation – Mid-range: Eileen's Tree Inn / Endoro Lodge / Karatu Simba Lodge
Day 4 Serengeti National Park
After breakfast, you will continue towards the fertile highlands where wheat and corn are grown by the Iraqw people. Along the way, we'll pass through the mist-shrouded rainforests of the Ngorongoro Conservation Area where you might be lucky enough to see baboons or even leopards and elephants in the dense undergrowth. The Serengeti National Park is the largest park in Tanzania with diverse landscapes and habitats, such as grassy plains, swamps, lakes, savannah, and mountains. After an extensive game drive, you will drive to your accommodation where you will enjoy dinner and an overnight stay.
Accommodation – Mid-range: Serengeti Heritage Tented Camp / Embalakai Camp / Acacia Central Camp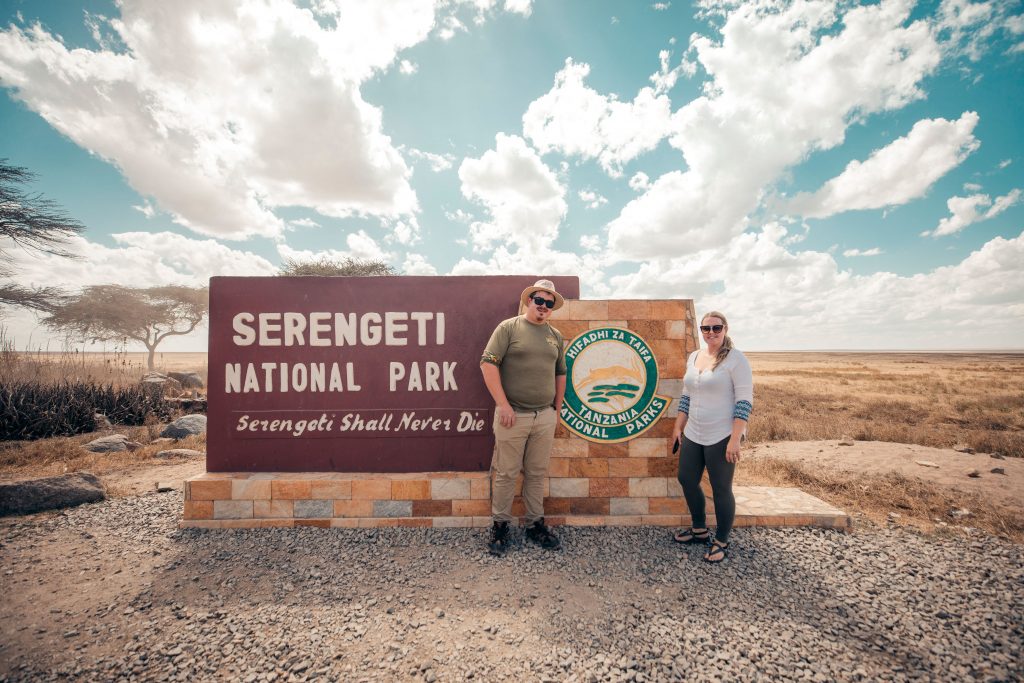 Day 5 Serengeti National Park
This entire day is set aside for game drives upon the Serengeti. The Serengeti, the habitat of an abundance of wildlife such as impala, buffalo, crocodile, and hippo, is more well-known for its great migrating herds of zebra, antelope, and wildebeest. The animals' trek is determined by the rainfall and varies from year to year. In November and December, the animals move from the northern region, dominated by woodlands and hills, to the grassy plains of the south. During the longer rainy season from April to June, they return to the north. Apart from the migrating herds, we may have the opportunity to see the resident predators, leopard, cheetah, and lion, fulfilling their role in the circle of life.
After an unforgettable day, we will return to your accommodation for relaxation, dinner and our overnight sleep on The Endless Plain.
Accommodation – Mid-range: Serengeti Heritage Tented Camp / Embalakai Camp / Acacia Central Camp
Day 6 Serengeti to Ngorongoro crater
After breakfast, you will head out from Serengeti to Ngorongoro crater. You might be able to spot the "Big Five" – lion, elephant, buffalo, rhino, and leopard – before embarking on your journey to Ngorongoro Crater. This UNESCO world heritage site formed millions of years ago is 600 m deep and covers roughly around 260 square kilometres. Due to its dense animal population of approximately 25 000, the Crater offers the best game viewing of all the parks in Tanzania. You will arrive at the Crater rim before lunch. You will descend into the Crater and very quickly, you will be able to see wildebeest, zebras, gazelles, elephants, and some of the more than 500 bird species in the area. With a little bit of luck, you might catch a glimpse of the endangered black rhino through the grass.
After lunch and a full afternoon inside the Crater, you will head to your accommodation for dinner and an overnight stay.
Accommodation – Mid-range: Eileen's Tree Inn / Endoro Lodge / Karatu Simba Lodge
Day 7 Karatu to the Airport
You will be picked up from your accommodation and drive straight to the airport in time to catch your flight to Zanzibar. You will spend the first night in Stone Town for a day of relaxation with amazing views of the old city. There is a possibility of arranging extra activities such as a day tour in Stone Town including Old Town guided tour, Spice Tour, and Prison Island. A tour to Jozani Forest can also be organized. All tours and excursions can be arranged at the hotel.
Accommodation – Midrange: Maru Maru Hotel
Day 8 to 11: Stone Town to North Coast (Nungwi)
Located on the northern part of the island, Nungwi is a lively village surrounded by some of Zanzibar's most beautiful beaches. At the time of your choice, you will transfer to this location, approximately 50 km from Stone Town. Once a sleepy fishing village, it is now a popular island destination full of life. It is also one of the only places from where you can see both the sunrise and sunset over the ocean. You can take some rest and enjoy this paradise made of beautiful beaches of white sand and turquoise water of the Indian Ocean. You will spend 4 nights at this incredible place.
Accommodation – Midrange: Amaan Beach Bungalows
Included on this Tanzania Safari and Beach Honeymoon.
Park fees

(For non-residents)

All activities

(Unless labeled as optional)

All accommodation

(Unless listed as upgrade)

A professional driver/guide
All transportation

(Unless labeled as optional)

All Taxes/VAT
Roundtrip airport transfer
Meals

(As specified in the day-by-day section)

Drinks

(As specified in the day-by-day section)
Excluded
International and local flights
Additional accommodation before and at the end of the tour
Tips

(Tipping guideline US$15.00 pp per day)

Personal items

(Souvenirs, travel insurance, visa fees, etc.)
Optional Safari Activities:
Balloon Safari (USD 650 per person)
Maasai Village Visit (U$DD 50 per vehicle)
Night Game Drive Tarangire or Lake Manyara (USD 120 per person)
Ngorongoro Crater Rim Walk (U$D30 per person)
Visit to the Olduvai Gorge and museum (U$D 40  per person)