Uganda's lar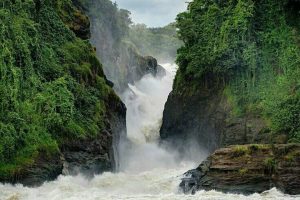 gest national park is one of its very best; animals are in plentiful supply and the raging Murchison Falls, where the Victoria Nile crashes through the rock and descends dramatically towards Lake Albert, is an unforgettable sight. Despite a decimation of animal numbers during the war years, numbers have recovered well and you can expect to see elephants, Rothschild giraffes, lions, Ugandan kobs (antelope), waterbucks, buffaloes, hippos and crocodiles, not to mention some 460 species of bird.
Murchison Falls, also known as Kabalega Falls, is a waterfall between Lake Kyoga and Lake Albert on the Victoria Nile in Uganda. At the top of Murchison Falls, the Nile forces its way through a gap in the rocks, only 7 m (23 ft) wide, and tumbles 43 m (141 ft), before flowing westward into Lake Albert. The outlet of Lake Victoria sends around 300 cubic meters per second (11,000 ft³/s) of water over the falls, squeezed into a gorge less than 10 m (33 ft) wide.
Some historians suggest that in 61 AD Roman legionaries reached the Murchison Falls, but there is a major controversy about this very difficult achievement.
For more information on the park, pick up a copy of Murchison Falls Conservation Area Guidebook (2004) by Shaun Mann at the park office.
The Mesmerizing Murchison Falls
Uganda is a paradise of places to go, wildlife to feast your eyes on, extraordinary cuisine and an experience of a lifetime. One of the key attractions in Uganda is Murchison Falls also known as Kabalega Falls.
Location
Murchison Falls is located between Lake Kyoga and Lake Albert.
About Murchison Falls
At the peak of the waterfall, the forceful waters of the Nile push and shoves its way through the narrow gap in the rocks only 7 meters wide and tumbles down 43 meters into a pool known as "The Devil's Cauldron" before flowing westward into Lake Albert.
Providing an outlet of a massive 300 cubic meters per second the equivalent of 11,000 ft of water to put it in perspective.
Discovery & Origin of the Name
Ironically, as with most discoveries in the colonial age, the discovery of this majestic waterfall was on the hands of Sir Samuel and Florence Baker naming them after Sir Roderick Murchisonhead of the royal geographical society.
Kabalega Falls is the local name of the waterfall. It was named by a remnant of Ugandan military officer and former president Idi Amin's regime.
In the 1970s, Amin unofficially renamed Murchison Falls to Kabalega Falls in reference to Kabalega of Bunyoro, the late-19th-century king of Bunyoro, Uganda.
Murchison Falls National Park
The waterfalls lend their name to the surrounding Murchison Falls National Park.
The Murchison Falls Conservation Area MFCA consists of the National Park, Bugungu Wildlife Reserve, and the Karuma Falls Wildlife Reserve. It is home to more than 70 mammals and 450 bird species.
Riverbanks are dotted with hippos, buffalo and crocodiles, whereas elephants, leopards, chimpanzees, lions, and giraffes roam the forests and savannas.
The national park is a sight for sore eyes with an abundance of exotic wildlife and a plethora of ever-expanding animal inhabitants the park is a must-see attraction for animal lovers and nature enthusiasts alike.
In conclusion, if you're looking for an adventure including wonderful scenery, wild animals, exotic plants and reconnecting to nature, Murchison Falls National Park is your best chance for that.
Climate & Best Time to Visit
The best time to visit: December to February.
Peak season: June To September.
Low season: March to May, October and November.
Best weather conditions: June and July.
Worst Weather conditions: April and May, August and October.
The waterfall experiences a dry season and a wet season. The dry season occurs from December to February and from June to September. The wet season is from March to May, and September to November.